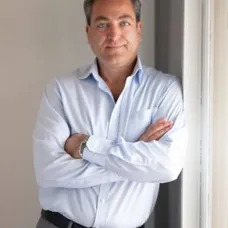 Dr. Pejman P Behrouzi D.C.
Chiropractor / Functional Medicine Practitioner
Dr. Pejman Peter Behrouzi prides himself on quality healthcare. He is a devoted practitioner that truly cares about his patients' well being. He graduated from Palmer College of Chiropractic-West in the Bay Area and has practiced throughout California for over 27 years. His experience and extensive training allows him to tailor treatment to each individual's needs. Dr. Behrouzi specializes in sports injury, worker's compensation, personal injury, care of expectant mothers, functional medicine and a variety of other cases ranging from pediatrics to geriatrics. He applies an integrative approach which helps him work closely with each patient to enhance their quality of life. His ultimate goal is to set up a specialized corrective and wellness program in order to restore proper function in the body.

Throughout the years, he has effectively helped thousands of patients by incorporating holistic chiropractic wellness with nutritional therapy and functional medicine. His passion for healthcare and dedication to his patients have encouraged him to take an evidence-based stance on wellness care. Dr. Behrouzi continuously strives towards excellence, utilizing the latest technology and research to enhance the lives of those under his care.
He is excited to return to the North San Diego County community and contribute his services. His passion for his patients, his wealth of experience, and his love for chiropractic and functional wellness set him apart from other practitioners in his field.
Dr. Behrouzi is currently accepting new patients. He is looking forward to helping you and your loved ones achieve and maintain optimal health.
---
Phil Gallo, L.Ac., M.S., NASM-GFS CES CPT
Acupuncturist
Phil believes that our health is our most valuable asset and wellbeing is our ultimate achievement. That in order to "Move Better & Live Healthier" personal health and fitness goals should matter to everyone. Longtime athlete Phil Gallo actually started out as an animation illustration major before going into health science, fitness and acupuncture. He's always paid close attention to detail, loved watching and drawing cartoons, but now his life's work involves creation of a different sort: he helps grow and maintain peoples healthy lifestyles.
"Choosing to become an acupuncturist and fitness coach has allowed me the freedom to be closely involved with men and women's general health issues, youth athletic programs, their parents, families and friends, addressing fat loss, pain management from sport and non sports related injuries."
As a resident of Encinitas for more than 50 years, Phil says North County will always be home. A San Dieguito High grad, he has worked as a certified personal trainer, function movement and mobility specialist for 30 years, followed by earning his master's in Traditional Chinese Medicine in 2002.The collective enthusiasm, communicative skills, down to earth demeanor and application of eastern medicine with western fitness techniques are provided to maximize your health and wellbeing in order to live a more balanced, well rounded existence.

---
Dr. Jonathan Kalman, NMD
Naturopathic Doctor
Dr. Jonathan Kalman NMD is a restorative medicine doctor that knew his path well before attending the Sonoran University of Health Sciences (formerly SCNM). He is always looking for progressive, cutting-edge therapies that he would use on himself and/or recommend to his family and friends. He has been practicing medicine with this ethos for over 18 years.
Restorative Medicine is a therapeutic approach aimed at restoring organ function and endocrine balance on a functional level such that cellular, metabolic, and functional improvements can be long-lasting, reducing the need for multiple pharmaceutical interventions. Dr. Kalman seeks to treat the causes of chronic musculoskeletal pain by healing damage and degeneration of connective tissue caused by traumatic injuries and repetitive motion injuries. This is accomplished by injecting natural substances or one's own blood platelets and tissue growth factors directly into the problem areas in order to regenerate healthy tissue.
Dr. Kalman treats all genders, but emphasizes men's health, incorporating therapeutic interventions like hormone replacement therapy, diet & lifestyle modification and regenerative therapies like P-Shots, shockwave and extracorporeal ozone and oxygenation (EBOO).